Leave a Comment
At Renown Electric Motors and Repair we have over 30 years of experience providing the highest quality electric motors and motor repair services.
We are an authorized dealer for most major manufacturers, which helps assure our customers receive the best products available. As part of our commitment to helping you with all of your motor needs, we created the Motor Dimensions Comparison Tool to make it easier for you to compare motor frame dimensions for the motors you are interested in.
The Motor Dimensions Comparison Tool provides quick access to critical motor frame dimensions for base-mounted motors. The dimensions are standardized motor dimensions set forth by NEMA (National Electrical Manufacturers Association).
Each frame size is designated with a frame number, and we have compiled all the dimensions for each frame size into easy-to-read drawings. Simply select the frame number of interest and all of the NEMA standardized dimensions will be displayed. It's important to remember that the frame numbers do not indicate the motor's electrical characteristics.
As a rule of thumb, however, higher frame numbers generally correspond with larger motor sizes and increased horsepower.
The following dimensions are shown in each drawing: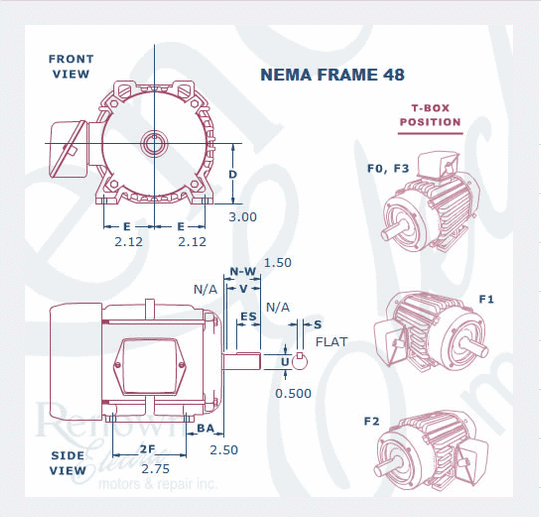 — D = shaft height measured at the centerline
— E = distance from the centerline to the side mounting holes
— BA = distance from the center of the nearest mounting hole to the beginning of the usable shaft
— 2F = distance between the front-to-back mounting holes
— U = shaft diameter
— N-W = shaft length
— V = usable shaft length
— ES = length of keyseat
— S = width of keyseat
It is now easier than ever to compare motor frame dimensions. Our interactive Motor Dimensions Comparison Tool allows you to quickly identify critical motor dimensions for any motor of interest. You can also quickly compare similar frames numbers to help you choose the motor that is right for you.
At Renown Electric Motors and Repair we are here to serve you. Use our Motor Dimensions Comparison Tool as your go-to resource for selecting a motor, and feel free to contact us with any questions you have.